MACH Bluefire's Rapid Refund MX MXS MXJ MJB "Check"
Check has been a dream come true and was the female I kept from the last breeding of Credit x Mayhem. I retired her the day she earned her MACH title and she won both her classes that day as usual. I believe in quitting while you are ahead and your dog is still fast and sound. Check has given me my wonderful Copy Cat and Profit who are carrying on the fabulous Bluefire genes.

Titles: MACH MX MXS MXJ MJB
Breed: Border Collie
Call Name: Check
OFA: Good
Elbows: Normal
CEA DNA: Normal
Date of Birth: 4/24/2008
Sex: Female
Size: 20″
Color: Blue Merle
Eye Color: One brown & one merle
Registries: AKC

Bow-Wow Guest Room
Available to Rent!
Check out our Facilities page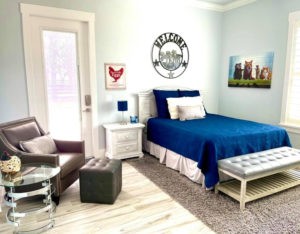 Contact Gayle for rental availability and rates!