Bluefire's Check Out My Asset! OA OAJ "Profit"
Profit is our youngest Bluefire Border Collie and is a repeat breeding of her older sister, Copy Cat.
Profit is a brilliant, beautiful and talented youngster!  She has been the easiest to train of all my dogs and just seems to know what I am communicating with very little effort.  She loves learning and loves to go fast!

Titles: OA, OAJ
Breed: Border Collie
Call Name: Profit
Eyes: Normal
CEA DNA:
Date of Birth: 12/5/15
Sex: Female
Size: 19"
Color: Blue Merle
Markings:
Eye color: Blue
Registries: AKC

Bow-Wow Guest Room
Available to Rent!
Check out our Facilities page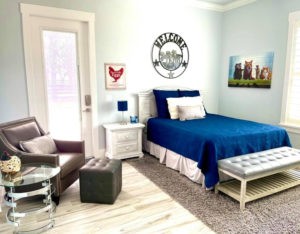 Contact Gayle for rental availability and rates!