MACH2 Sagehill's All Charged Up "Credit"
Credit is the foundation of Bluefire Border Collies.

Titles: MACH2
Breed: Border Collie
Call Name: Credit
OFA: Good
Eyes CERF'ed: Normal
Date of Birth: 6/30/2000
Sex: Female
Size: 19-1/2″ & 34 lbs.
Color: Blue Merle
Markings: Gorgeous and strikingly clear bi-blue coloring
Eye Color: Left eye is blue, right eye is half-blue & half-brown
Registries: AKC, ABC
BAER Hearing Test
: Normal
DNA Testing for CEA
: Carrier Status (Regarding the upcoming breeding with Bank, this will not affect the puppies other than that she could produce "carriers." For more information, please visit
this link
.)

Bow-Wow Guest Room
Available to Rent!
Check out our Facilities page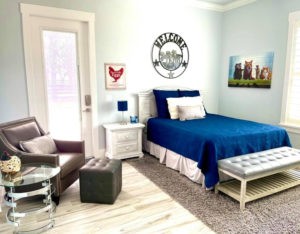 Contact Gayle for rental availability and rates!