The Bow-Wow spare bedroom is empty and taking reservations. Amenities include private entrance and exit to/from secured fenced dog yard, private bath, use of raised dog wash station and laundry, full-sized refrigerator, WiFi and 5 1/2 beautiful completely fenced acres. Some agility equipment also on site and available. We are 10 minutes from the new World Equestrian Center®in Ocala, Florida. Whether you are coming to town for a horse show, dog show, to swim with the manatees or to visit Silver Springs or the Ocala National Forest, you can reserve a night, a weekend, a week, or longer. The Bow-Wow Barn is in the works so your horse will be welcome too! 
Pricing will depend on length of stay and the number of dogs. Please contact Gayle directly for rates and availability.
Click on each of the photos below for a larger view.

Bow-Wow Guest Room
Available to Rent!
Check out our Facilities page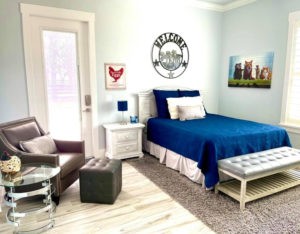 Contact Gayle for rental availability and rates!