MACH Bluefire's Duplicate Check MXS MJS "Copy Cat"
Copy Cat has amazing structure, talent and drive. I named her Copy Cat in hopes that she would be an exact duplicate of her perfect mother "Check", but she has surpassed my hopes and expectations already.
Copy is vocal when running agility and gives everything she does 110 percent. Copy Cat has MACH.
Titles: MACH, MXS, MJS
Breed: Border Collie
Call Name: Copy Cat
Eyes CERF'ed: Normal
OFA: Excellent
CEA DNA: Normal
Date of Birth: 4/30/11
Sex: Female
Size: 20 1/2″
Color: Blue Merle
Markings: Tan Points
Eye Color: One blue and one brown
Registries: AKC

Bow-Wow Guest Room
Available to Rent!
Check out our Facilities page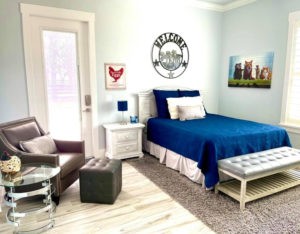 Contact Gayle for rental availability and rates!